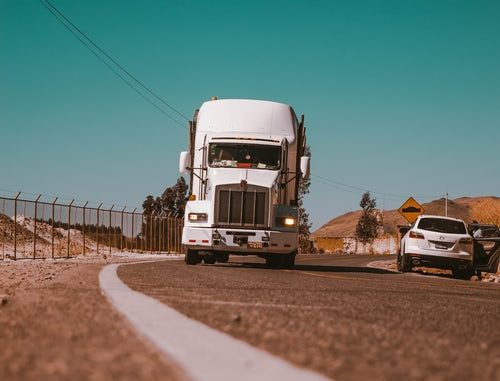 Reading Time:
2
minutes
When a truck accident occurs, the results can be devastating. Because trucks are so much larger than other vehicles, accidents with them can result in serious injuries. Learn about the most common types of truck collisions and how you can avoid them.
The Basics of Truck Accidents
In 2016, there were 475,000 reported truck accidents in the US. Many of those crashes resulted in serious injuries. In some cases, they resulted in fatalities. 66% of the fatality victims from truck accidents were occupants of the other vehicles.
There are two common causes of trucks accidents. First, there's driver negligence. If the truck driver acts in a negligent or reckless manner, they could be responsible for the crash.
Another cause is improper maintenance. Typically, the blame for this type of accident rests on the shoulder of the driver or the trucking company. It's their responsibility to perform routine maintenance on their vehicles. If a preventable malfunction causes an accident, then the trucking company could be responsible.
Specific Types of Truck Accidents
It doesn't take much for a truck accident to occur. Here are a few examples of common causes:
1. Rollover Accidents
A rollover collision occurs when a truck rolls over. Often, this occurs when the driver is going too fast, there is a steep hill, or a truck turns too quickly. When a truck rolls over, the event can affect all of the other vehicles on the road.
2. Jackknife
If the axle brakes of a truck lock up, the result can be a skid. This is known as a jackknife. When one occurs, the driver has no control over their truck. Only time can bring the skid to an end. Typically, the trailer only comes to a stop when it's 90 degrees from the tractor. It can result in a rollover accident.
3. Underride
Some trucks are much taller than the other vehicles on the road. If a smaller vehicles rear-ends a tall truck, it may go underneath the truck. The resulting accident is known as an underride accident.
When underride accidents occur, the result is particularly devastating. The damage to the car can be extensive, and fatalities are common.
4. Rear-End Collisions
Heavy trucks can't stop on a dime. If a car brakes suddenly, a truck might not be able to break in time. The driver can rear-end the other vehicle, which often leads to injury.
5. DUIs
Many truck drivers are responsible and professional. However, some are not. There are cases of drunk truck driving. When this occurs, the result can be an accident.
6. Brake Failure
When a truck driver's brakes fail, the risks are high. And, unfortunately, brake failure crashes are more common than you might imagine. The frequent use of trucks places a great deal of wear and tear on the brakes. If they don't get frequent maintenance, the brakes can stop working.
Coping with Truck Accidents
A truck accident can change your life. After a collision, you could lose a loved one or suffer from a serious injury. In addition to your pain and suffering, you could have piles of medical bills.
In 2016, 786 truckers died on the job. Countless other drivers lost their lives as a result of truck accidents. If you were a victim, you could benefit from an Atlanta truck accident lawyer. According to Cambre and Associates, you could be eligible for compensation.