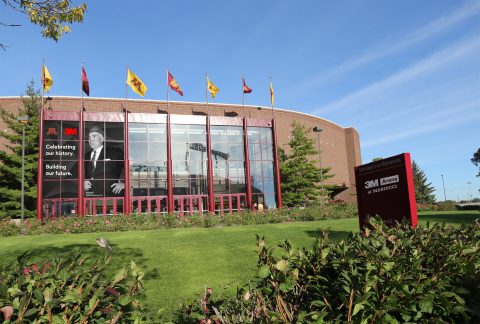 Reading Time:
2
minutes
The University of Minnesota and 3M announced a new sponsorship on Monday, the latest in a 90-year relationship between two of the state's largest institutions. This 14-year, $11.2 million sponsorship of Gopher Athletics includes the naming rights to Mariucci Arena. Keeping the historic Mariucci name, the Gopher hockey facility will now be known as 3M Arena at Mariucci.
"Today's announcement brings together three names instantly recognizable across Minnesota – Mariucci, Gopher Hockey and 3M – and that's certainly exciting," said Athletics Director Mark Coyle. "This sponsorship will have a broad impact across our athletics department by supporting construction of our new Athletes Village. By partnering with us, 3M is investing in every current and future Gopher student-athlete, the future leaders of our state. 3M will be a big reason why each of those young men and women have a first-class experience at Minnesota that prepares them for the rest of their lives."
3M has a long tradition of investing in the success of students. Key areas of the Athletes Village supported by 3M's sponsorship include an expanded and modernized academic center, the department's first nutrition education and dining space, and an innovative leadership center devoted to helping student-athletes develop the skills they need to transition into successful careers.
"3M and the University are long-time collaborators, and alumni contribute greatly to our success, innovation and growth," said Paul Acito, vice president and chief marketing officer at 3M. "Our sponsorship of Mariucci Arena and Golden Gopher Hockey is a tribute to our Minnesota roots, and an opportunity to support a great Minnesota tradition alongside a new generation of fans. Keeping the Mariucci name on the building is an important element of this agreement."
"Our father and grandfather was a life-long Minnesotan, and would have been thrilled to see 3M showing so much support for the University and for men's hockey," said John Mariucci Jr., speaking on behalf of the Mariucci family. "To have 3M, one of Minnesota's most respected and well-known brands, be a part of the rich history of Gopher hockey and the Mariucci legacy is exciting. We are happy that 3M and the U felt it was important to continue honoring our father and grandfather's legacy and kept the Mariucci name tied to the arena. It's a privilege for our family to be so closely associated with two of Minnesota's most recognizable and important institutions."
The Gopher men's hockey team will play its first games at 3M Arena at Mariucci on Oct. 1, an exhibition against Alberta, and then on Oct. 13 and 14 to open the Big Ten season against Penn State.
About 3M
At 3M, we apply science in collaborative ways to improve lives daily. With $30 billion in sales, our 90,000 employees connect with customers all around the world. Learn more about 3M's creative solutions to the world's problems at www.3M.com or on Twitter @3M or @3MNewsroom.
3M is a trademark of 3M. (C) 3M 2017.