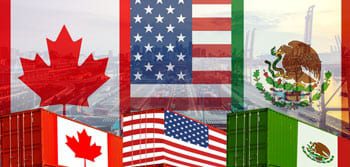 Reading Time:
3
minutes
The new trade deal — waiting for approval from trading partners Canada and Mexico — is getting growing bi-partisan support in the US, according to Rep. Kevin Brady (R-TX).
President Trump and U.S. Trade Representative Robert Lighthizer recently updated and modernized the North American Free Trade Agreement (NAFTA).  NAFTA is a trilateral agreement that was negotiated in the early 1990s between the United States, Canada, and Mexico, which has increased American jobs, grown wages for U.S. workers, and helped American businesses sell more goods and services worldwide.
The new, modernized NAFTA, known as United States-Mexico-Canada Agreement – or USMCA – brings NAFTA into the 21st century.  According to numerous analyses, including the independent U.S. International Trade Commission, this new agreement will continue to bolster America's strong economy for years to come.
Meanwhile, the proposal is gathering steam where it matters most, if it is to become reality — which is in the political conversation of the day.  As the three countries work to bring USMCA across the finish line, it is vital that Speaker Nancy Pelosi acts "very soon to ratify this modernized agreement" so that Americans can begin to reap the benefit of the new agreement, according to Brady.
Republican support from lawmakers has been strong from the beginning.
Rep. Kevin Brady (R-TX), the lead Republican on the powerful House Ways and Means Committee, and House Republican Whip Steve Scalise (R-LA) wrote in The Hill:
"The U.S. will be losing out on more jobs, more customers for Made-in-America goods and a stronger economy unless the U.S. House of Representatives takes up the updated trade agreement with Mexico and Canada. . . . Lawmakers in both parties heartily defend the current U.S-Mexico-Canada trading partnership as vital. On balance the new USMCA strengthens that partnership in key ways by preserving provisions that work well today, improving on others and establishing new standards that are the best in the world."
Rep. Darin LaHood (R-IL) wrote in Farm Week Now:
"USMCA will increase U.S. real gross domestic product by $68.2 billion and create 176,000 U.S. jobs, according to the U.S. International Trade Commission, helping manufacturers and small business.  The time is now to pass the USMCA. Delay only hurts our farmers, job creation and our economy."
Rep. Ron Estes (R-KS) wrote in the Derby Informer:
"As we also turn our focus to improving trade relations with China and other countries, I believe the USMCA can create a template for success and begin a new chapter for Kansas goods and America's economy."
Republican Members from the Michigan Delegation, including Reps. Paul Mitchell, John Moolenaar, Tim Walberg, Bill Huizenga, and Jack Bergman wrote in The Detroit News:
"USMCA is a better deal for us because it updates the automotive rules of origin by requiring 75% of auto parts be made in North America. It also requires 40-45% of automotive content be made by workers earning an average base wage of at least $16 an hour, which ensures United States manufacturers and workers can compete more successfully."
Rep. French Hill (R-AK) wrote in the Arkansas Democrat-Gazette:
"The USMCA is a successful renegotiation of the North American Free Trade Agreement. It is superior to the existing arrangement and is a far better proposal than the alternative of scrapping NAFTA and returning to World Trade Organization rules."
Rep. Steve Watkins (R-KS) wrote in the Atchison Globe:
"USMCA will help Kansas farmers, ranchers, and manufacturers grow and compete in the global market. . . . While NAFTA has been an overall net-positive for Kansans, it remains a decades-old deal that must be modernized for the 21st Century. USMCA delivers that modernization and then some."
Rep. Dan Newhouse (R-WA) wrote in the Wenatchee World:
"The agreement makes it easier for small businesses to tap into foreign markets, protects and enforces Intellectual Property, and encourages more materials to be manufactured in the U.S. Most importantly, USMCA maintains duty-free market access for U.S. for agriculture products, as established under NAFTA, including the iconic Washington apple, which accounts for $450 million annually or one out of every three apples grown in the U.S. In addition, the agreement goes even further to advance access for the U.S. dairy and wine industries — two huge economic drivers for Central Washington."
Rep. Roger Williams (R-TX) wrote in the Dallas Morning News:
"Texas has long been a leader of our nation's economy and there is almost no industry here that won't be impacted for the better. From manufacturing, to agriculture, to the high-tech sector — all aspects of our daily lives will grow and improve under USMCA."
It isn't just Republicans getting on board this legislation, and there is legitimate and growing concern that deelaying USMCA will hurt the economy, Brady argues "its passage deserves bipartisan support – and quickly."
Just ask Governor Howard Dean (D-VT), former chair of the Democratic National Committee:
"USMCA is a win for workers across North America. By building on the success of NAFTA, it will support the growth of current and future U.S. industries. Ratifying the pact would show voters across the country that Democrats prioritize the needs of hardworking Americans."