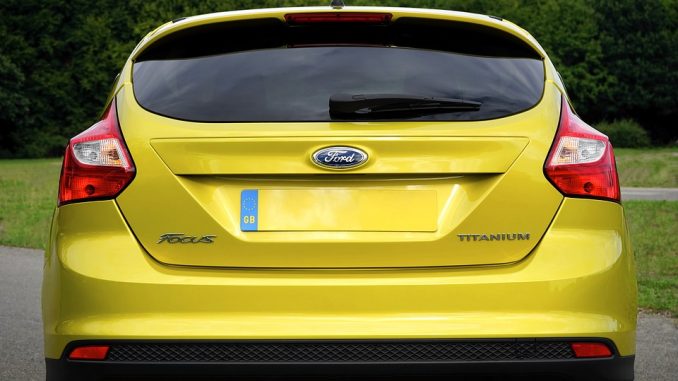 Reading Time:
4
minutes
By  USADC
On Thursday, the National Center for Public Policy Research's Free Enterprise Project  (FEP) – the nation's leading proponent of free-market investor activism – will seek to ask Ford Motor Company executives if they believe there is a reputational risk and potential consumer backlash from advertising on television news programs hostile to the Trump Administration.  FEP representatives are hoping for the opportunity to pose this tough question during Ford's first online 

shareholder 

meeting – a departure from traditional in-person meetings.
"Ford executives will be tested to see if they are willing to tackle hard questions at a virtual shareholder meeting where they control access," said National Center Vice President David W. Almasi.  "When liberal politicians wanted to avoid angry constituents during the Tea Party movement, they held virtual meetings to avoid uncomfortable interaction.  We are hoping Ford executives will not employ the same strategy.  Annual meetings are the one time a year when shareholders can question corporate leadership.  To restrict that opportunity would be a disservice to the investment community."
The Ford shareholder meeting will be held on May 11 at 8:30AM eastern in an audio-only format accessible through the Ford website.
During the meeting's question and answer session, FEP hopes to ask if Ford executives think that advertising on news programs hostile to the Trump Administration could harm the Ford brand by exposing it to "reputational risk" now that "fake news" and leaked emails showing collusion between liberal political operatives and members of the media have caused public trust in the media to plunge.
"We filed a shareholder resolution asking Ford to detail the risk to its reputation of doing business with media outlets that were exposed by WikiLeaks as working closely with the political class to promote specific political and policy agendas.  Rather than being transparent about such risks, the company petitioned the U.S. Securities and Exchange Commission seeking approval to exclude our proposal, arguing that this was an issue in which shareholders shouldn't have a say.  The SEC ultimately agreed with Ford, but we are still seeking answers," said National Center General Counsel and FEP Director Justin Danhof, Esq., who is set to represent FEP at the meeting.  "Now, many of those same news outlets that we expressed concern about in our proposal are seemingly at war with the White House.  President Trump has called much of the mainstream media an enemy of the American people and has accused specific media outlets of peddling fake news.  The risks to Ford's reputation of continuing to advertise with such outlets appear to be increasing, not diminishing."
This is the third time FEP will participate in a Ford shareholder meeting.  In 2011, FEP asked Ford to reassess its membership in the U.S. Climate Action Partnership (USCAP) ? a fringe political group pushing regulations that FEP noted might negatively impact Ford and its consumers. Ford left USCAP  in 2012.  In 2014, a FEP representative asked the automaker to educate the public about how government regulations increase the cost of producing a vehicle and to consider listing regulatory impact on sales stickers of new Ford cars and trucks.
Launched in 2007, the National Center for Public Policy Research's Free Enterprise Project is the nation's preeminent free-market activist group – focusing on shareholder activism and the confluence of big government and big business.  Since 2014, National Center representatives have participated in nearly 100 shareholder meetings to advance free-market ideals in the areas of health care, energy, taxes, subsidies, regulations, religious freedom, food policies, media bias, gun rights, workers' rights and many other important public policy issues.  This is the fourteenth shareholder meeting the FEP has attended in 2017.
The National Center
'
s Free Enterprise Project activism has yielded a tremendous return on investment:
FEP

'

s highly-publicized questioning of support for the Clinton Foundation by Boeing and General Electric helped trigger an FBI investigation of the Clinton Foundation

'

s activities that dominated the 2016 presidential campaign.  

FEP inquiries prompted Facebook to address political bias against conservatives in social media.

 

Company executives acknowledged media bias at ABC News (Disney), the Washington Post and CNN (Time Warner) in response to FEP

'

s challenges, which helped to bring about more objective reporting and more balanced political representation.
FEP

'

s 

"

Employee Conscience Protection Project

"

 strengthened protections for the political beliefs and activities of over five million workers at 13 major U.S. corporations.
So far in 2017, the FEP has been featured in media outlets including the New York Times, Washington Post, USA Today, Variety, Associated Press, Bloomberg, Breitbart, WorldNetDaily, Drudge Report, Business Insider, CNET, National Public Radio, American Family Radio and SiriusXM. In 2016, the FEP was also featured in the Washington Times, the Fox News Channel's "Cavuto," the Financial Times, Crain's Chicago Business, the Hollywood Reporter, the Los Angeles Times, Fortune, Newsmax, the Daily Caller, Lifezette, the Seattle Times, the San Francisco Chronicle and the Chicago Tribune among many others.  The Free Enterprise Project was also featured in Wall Street Journal writer Kimberley Strassel

'

s 2016 book The Intimidation Game: How the Left is Silencing Free Speech (Hachette Book Group).
The National Center for Public Policy Research, founded in 1982, is a non-partisan, free-market, independent conservative think-tank.  Ninety-four percent of its support comes from individuals, less than four percent from foundations and less than two percent from corporations.  It receives over 350,000 individual contributions a year from over 60,000 active recent contributors.  Sign up for email updates 
here
.  Follow us on Twitter at 
@NationalCenter
 for general announcements.  To be alerted to upcoming media appearances by National Center staff, follow our media appearances Twitter account at 
@NCPPRMedia
.