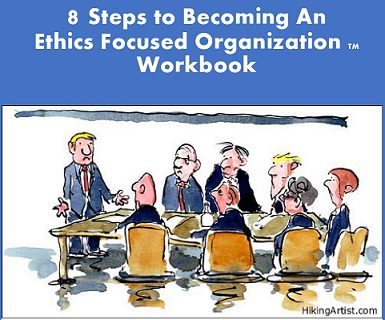 Reading Time:
4
minutes
Recently Kevin Price, host of the nationally syndicated Price of Business Show, interviewed nationally recognized small business expert and long-time contributor James J. Talerico, Jr. CEO of Greater Prairie Business Consulting, Inc. about his new book, "8 Steps to an Ethics Focused Organization."
Kevin Price interviewed nationally recognized small business expert James J. Talerico, Jr., CMC © about why it was time for small businesses to improve their focus on ethics.
Talerico started off the interview by pointing out the substantial damage a few negative on-line reviews can cause to a brand. The current statistics are that online reviews influence 93% of consumer purchases today, and that a single bad review costs a business, on average, between $3,000 to $15,000 a year; moreover, if a business' online reviews average one star less than its' competitors, they will not show up in the search of that competitor. On the other hand, according to Talerico, positive on-line reviews result in an 18% uplift in sales.  Another statistic that struck our guest at the time, was that the Better Business Bureau had processed over 835,000 complaints from consumers the year before. So, it was clear to him that there is plenty of room for improvement in small business ethics.
After the broadcast, Talerico posted an article summarizing his radio interview about small business ethics on LinkedIn. "I have 30,000 LinkedIn followers," he said, "and after I posted the article I started receiving comments from all over the world about my ideas for improving small business ethics."  "This intrigued me," Talerico explained, so he started to research small business ethics further, and found that while most large businesses had systems, procedures, and controls in place around ethics, a small business' approach to ethics was, in most cases, reactive and according to studies differs depending on both the personality of the business owner and the company's current cash position.
When Talerico looked for ways small businesses can improve their focus on ethics online, he found information about different aspects of small business ethics, but he could not find an affordable, comprehensive solution for small businesses. If he did not create his Ethics Focused Organization TM (Trademark Pending) certification program, he says, this would still be true today.
There are many good reasons why small businesses should be focused on ethics. For instance, being focused on ethics helps small businesses make better decisions and lowers their legal risk.  Ethics focused organizations enjoy more loyal and satisfied customers and have higher sales and profits. Interestingly, businesses that focus on ethics have happier employees, who are more motivated than their competitors, and these businesses also enjoy greater employee retention.  Businesses that embrace ethics are, furthermore, more socially responsible, and being focused on ethics can also help ensure a business' long-term success.  So, there is a noticeable ROI by becoming an ethics focused organization.
The eight steps outlined in Talerico's new book include: surveying your stakeholders, putting together a code of ethics, creating an ethics officer and/or ethics committee, implementing ways to strengthen the culture of your organization as it relates to ethics, improving your policies, procedures & processes around ethics, establishing ethics metrics, creating  continual improvement / continuous improvement compliance and ethics goals and objectives for your business, and implementing other ideas to improve your business' focus on ethics.
Talerico believes that his certification program is the best solution on the market for small businesses because it will help businesses distinguish themselves from the competition, its affordable, and because everyone who participates in the program can receive eight – (8) continuing education units (CEU's) from the University of Texas at Arlington's Division of Enterprise Development.  Considering the book comes with almost two dozen aides to help businesses implement these steps, Talerico argues that these tools, polices, procedures, checklists, surveys, etc. alone pay for the class, as the time it would take a business to recreate them on their own would be significantly greater than the cost for his certification program.
In conclusion, Talerico added that as small businesses emerge from COVID-19, they will be stronger, nimbler, and have innovated.  Being an "ethics focused organization" is something a small business can easily put in place for a minimal cost and in a short period of time.  Without question says Talerico, "being an ethics focused organization will distinguish your small business from the crowd and result in many long-term benefits."
Price of Business listeners can order this certification program from Talerico's company's ecommerce page at: www.greaterprairiebusinessconsulting.com/store.html By entering "Kevin Price" when prompted, Price of Business listeners will receive a 30% discount on this exclusive offer .  To contact the author, you may call his office at 1-800-828-7585, or email him at: JJTalericoJr@GPBusinessSolutions.com.
James J. Talerico, Jr., CMC ©
About the Author of "8 Steps to Becoming an Ethics Focused Organization:"
A nationally recognized small to mid-sized business (SMB) expert, Jim Talerico has consistently ranked among the "top small business consultants followed on Twitter." With more than thirty – (30) years of diversified business experience, Jim has a solid track record helping thousands of business owners across the US and in Canada tackle tough business problems and improve their organizational performance.
A regular guest on the "Price of Business" on Bloomberg Talk Radio, Jim's client success stories have been highlighted in the Wall St. Journal, Dallas Business Journal, Chicago Daily Herald, and on MSNBC's Your Business, and he is regularly quoted in publications like the New York Times, Dallas Morning News, Philadelphia Inquirer, and on INC.com, in addition to numerous, other industry publications, radio broadcasts, business books, and Internet media.
Jim Talerico is also a Certified Management Consultant CMC©, an honor bestowed on only 1% of all consultants worldwide.
For more information about Jim's practice go to: www.greaterprairiebusinessconsulting.com.
Social Media Links:
www.LinkedIn.com/in/JamesJTalericoJr
www.Twitter.com/JamesJTalericoJ
www.Facebook.com/GreaterPrairieBusinessConsulting www.Instagram/James_J_Talerico_Jr_SMB _Expert
Listen to Talerico's recent interview with Kevin Price on this very subject: