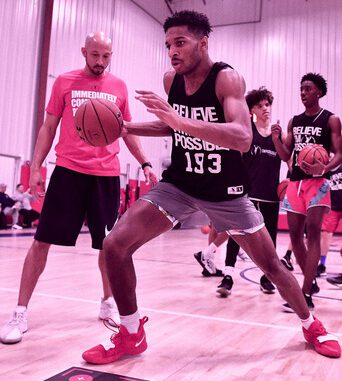 Reading Time:
2
minutes
It is easy to say that you want to become the best basketball player you can be, but it is extremely challenging to turn those aspirations into reality. Given that complex situation, there are institutions that offer their services to provide training and guidance to young aspiring players to help them dominate on the court. 
I'm Possible Training (IPT) is the global authority on basketball skill enhancement. IPT focuses on player development, which is the process to master skills. They recognized that training should not only be dedicated to learning new skills, but rather allowing individuals to consolidate what has been thought before moving onto the next session. This is important because there are basic skills that should be learned to perfection to serve as a solid foundation in learning more complex skills. The problem these days is that numerous trainers solely focus on training sessions to teach new skills and techniques that can be used in court, without accounting for the level of mastery of the trainees. 
With I'm Possible Training, players can access their online training system and training app, which allows for convenient communication between players and trainers. This is advantageous because trainers will communicate directly with players to provide personal notes and tips regarding their progress and possible improvements. Online tools, such as videos of skills and methods taught by the team, will be provided in the online system as well. 
Aside from the accessible online platform, players will also receive IPT's Certified Player Handbook, which allows them to take notes after each session and track their progress. Moreover, this handbook also comes with basketball tips and terminologies among others
IPT North Dakota
In North Dakota, there are three Skill Lab locations, specifically located at Bismarck, Williston and Minot. Skill Lab is the official training facility of I'm Possible Training (IPT), which is inspired by Kyrie Irving, proven by Victor Oladipo, and experienced by NBA players to kids all around the globe. This is designed to execute the checklist of over 700 skills and methods set by IPT.
Mark Kinnebrew, a certified IPT trainer who is among the best trainers in the country, spearheads operations and training in IPT-North Dakota. He offers his expertise and services through his Personal Training Academy, which is attended by players from around the world every summer conducted at the Bismarck Skill Lab. Each week, he caters to a maximum of twelve players to have the opportunity to train with him at the IPT-North Dakota Skill Lab, covering the same skills training curriculum used with NBA superstars. The limited number is to ensure that trainees get sufficient supervision and guidance from Mark. The focus of this training is skill enhancement development rather than scoring and gameplay. He ensures that everyone under his wing, despite their skill level, undergoes the exact same training. 
If you want to know more about Mark Kinnebrew and learn from one of the best in the game, you can reach him through Twitter and LinkedIn. You can also visit his website and the I'm Possible Training North Dakota page.